Since November of 2011, EcoOutfitters has been facilitating #SolarChat, a bi-monthly Twitter discussion that invites experts, consumers, and solar enthusiasts to talk about the industry.
#SolarChat has been an excellent tool for sparking important conversation between industry experts since the beginning, and we're excited to join the discussion for a special session on September 18th: Solar Conferences—Past, Present, and Future.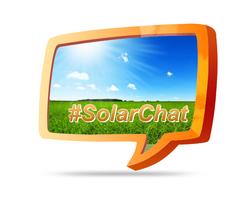 This SPI Convention pre-show event will serve as a brainstorming session of convention dos and don'ts as well as a sneak peek at some Solar Power International 2013 features.
#SolarChat is led by Raina Russo (@EcoOutfitters @ChatSolar) and will be joined this month by @SPIConvention.
Panelists will include
Alison Mickey
 (
@CleanPwrFinance)
, Public Relations & Corporate Communications Manager of Clean Power Finance; 
Svea Jeske
, Marketing Manager for KACO new energy 
(
@KACOnewenergy
); and 
Mike Dershowitz
, Founder & President of ModSolar (
@The
ModSolar
).
You can join too! Just register below and then hop onto Twitter at 2PM EST and use the hashtag #SolarChat to participate in the conversation.
About The Panelists
From the official event page
Solar Power International (SPI) is North America's premier business-to-business event for professionals in solar energy and related fields. SPI brings the full range of industry ideas, experts, professionals, and information together in one comprehensive event that delivers educational programming, unique networking opportunities, connections with industry vendors, and opportunities to expand in and with the U.S. market. Co-organized by SEIA and SEPA, proceeds from SPI are invested in the solar energy market through research and education activities, as well as SEIA's advocacy, research and communications efforts.
Alison Mickey leads corporate communications and public relations at Clean Power Finance, a financial services and SaaS company whose online business-to-business marketplace connects the solar industry with capital markets. Alison spent two years as a community health educator for the U.S. Peace Corps in the Islamic Republic of Mauritania. She holds an MA in International Studies and Diplomacy from the University of London and a BA in Chinese from Middlebury College.
Svea Jeske, is the Marketing Manager at KACO new energy, a global leader in PV inverter manufacturing. Prior to her role at KACO she has worked for FALKE KG and Berentzen AG in Germany and holds a degree in Business Management and Marketing. Svea  has seen the US solar industry and its trade shows grow and change since her first Solar Power International trade show in 2006, which took place at the convention center in San Jose, California.
Mike Dershowitz is the Founder and President of ModSolar; best known for its automation software for solar panel installers. Using the ModSolar platform, an installer can type in an address, view a satellite image of the property at that address, and outline the roof. The ModSolar Platform then does an automatic solar panel layout, calculates a cost estimate and return on investment, and generates a full system proposal, ready to email to the customer. And it does all this in less than three minutes. More broadly, ModSolar is focused on creating software and processes to make the solar industry more effective and efficient, thus reducing the soft costs of solar, helping the solar industry achieve scale, and ultimately helping to usher our society into a more sustainable energy future.